Chronicle of Higher Education
Larry Lessig, Harvard Berkman Klein
Jonathon Richter, Immersive Learning Research Network
Mark Johnson, UO Philosophy
Antonio Lopez, John Cabot Univ.
Victoria Vensa, UCLA Art|Sci
Berkman Center, Dana Boyd
Berkman Center Harvard Law
Bioneers Collective Heritage Institute
Cardozo Law, Susan Crawford
Harvard Free Culture Computer Society
Intl. Society for Systems Sciences
New England Complex Systems Institute
Institute for Ethics and Emerging Tech
Kairos: Rhetoric, Tech, Pedagogy
MIT CMS New Media Literacies
MIT Center for Civic Media
Pressthink, New York University
Open Source Lab, Oregon State Univ.
Regenerative & Permaculture Institutes
Stanford Encyclopedia of Philosophy
Uplift Academy, Tom Munnecke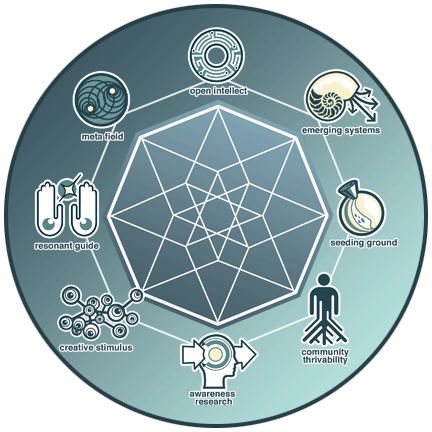 A COLLABORATIVE EXPLORATION
CONNECTING CREATIVE MOVEMENTS AND
MAGNIFYING GRASSROOTS CONCEPTS & PRACTICES
Imaginify 2002-2022 | 20 Year Anniversary
"Why is geometry often described as cold and dry? One reason lies in its inability to describe the shape of a cloud, a mountain, a coastline, or a tree. Clouds are not spheres, mountains are not cones, coastlines are not circles, and bark is not smooth, nor does lightning travel in a straight line... Nature exhibits not simply a higher degree but an altogether different level of complexity."
-- Benoit Mandelbrot, Fractal Mathematician
---
Thursday, April 09, 2020 - 07:41 PM
---
---
Monday, June 24, 2019 - 01:27 PM
---

SELECTION OF COURSES & ORGANIZATIONS
COMPLEXITY, SYSTEMS SCIENCE, AND COMPLEX SYSTEMS

• Santa Fe Institute (SFI) | Complexity Explorer (courses)
• New England Complex Systems Institute | NECSI courses
• SystemsInnovation.io (courses) | videos (playlists)
• Portland State Univ. (PDX) Systems Science Program
• Capra Course | Trailer



"Single-layer feedforward artificial neural network" Akritasa, cc 2015



"Artificial neural network with layer coloring" glosser, cc 2013

Also see Imaginify Emerging Systems


---
Tuesday, March 03, 2015 - 10:10 AM
---

:: UPDATED MARCH 3RD 2015 ::
"A SHORT GUIDE"
A Short Guide to the Digital Humanities [Open Access]. 2012. MIT Press (pp. 121–136).
Anne Burdick, Johanna Drucker, Peter lunenfeld, Todd Presner, & Jeffrey Schnapp.

"COMPLETE BOOK"
Digital_Humanities [Open Access]. 2012. MIT Press (pp. i-x and 1-141.
Anne Burdick, Johanna Drucker, Peter lunenfeld, Todd Presner, & Jeffrey Schnapp.


Cover: Jeremy Eichenbaum. Image: 9780262018470.jpg, JPG circa 2012. MIT Press
---
Thursday, April 21, 2011 - 04:20 AM
---

OPEN SOURCE HARDWARE ECOLOGIES EMERGING!

In 2004 (a long time ago), Imaginify noticed something . . .
on the horizon . . . Open Source Ecology!

Now, Marcin Jakubowski is finally featured on TED in 2011, "Open-sourced blueprints for civilization."


One day at a time . . . imagine if i . . . read the good news : )

OpenSourceEcology.org
"[T]he Global Village Construction Set,
building open source technologies for resilient communities" !!!

---
Sunday, April 10, 2011 - 02:40 PM
---
---
Saturday, January 01, 2011 - 12:00 AM
---

Timescapes (2011)

Behind the Scenes of "TimeScapes"
"A shot of me [Tom Lowe] working on a timelapse shot last night."
Photo by Chris Mierzwinski (http://www.visceralfilms.ca)
URL: http://www.flickr.com/photos/digitallion/4680293368/
© Tom Lowe @ Timescapes.org [click photo above]
---
Wednesday, March 03, 2010 - 12:00 AM
---

"Thrivability... the designer's role... pays attention to... details of life hidden in the landscape... The invisible frontiers... where modernity has failed to make good on its promises... the wanderer around invisible peripheries, the witness and facilitator of emergent states."
- "Design" by Joanna Guldi, Harvard Society of Fellows



Image: Public Domain
---
Tuesday, March 03, 2009 - 12:00 AM
---

:: UPDATED JUNE 24TH 2009 ::
"THE DIGITAL HUMANITIES MANIFESTO 2.0"

digitalhumanities.ucla.edu/images/stories/mellon_seminar_readings/manifesto%2020.pdf

Meta-Manifesto : June 16, 2009 : In Development



"THE PROMISE OF DIGITAL HUMANITIES"

digitalhumanities.ucla.edu/images/stories/papers/promise%20of%20digital%20humanities.pdf

Whitepaper : March 1, 2009 : Final Version
: Characteristics :
Interdisciplinary
Collaborative
Socially Engaged
Timely and Relevant



"The Mona Lisa" by Leonardo da Vinci
Public Domain
---
Saturday, February 14, 2009 - 02:00 PM
---


"Autumn Treasures" by Trixi
(CC) Attribution-Noncommercial-No Derivative Works 2.0 Generic



"Re Ordering" by Trixi
(CC) Attribution-Noncommercial-No Derivative Works 2.0 Generic
---
Friday, January 23, 2009 - 12:00 AM
---

Peer-to-Patent
is a pilot
project
in collaboration with the US Patent and Trademark Office. It was established in 2007 and recently extended/expanded to June 15, 2009. It is focused on helping the patent office perform high-quality examinations of pending patent applications by enlisting the public to help find and explain
prior art
.... Peer-to-Patent uses social software features to facilitate discussion amongst groups of volunteer experts. Users can upload prior art references, participate in discussion forums, rate other user submissions, add research references, invite others, and more. This helps the examiners focus their attention on the submission(s) of prior art that have the highest relevance to an application.
Beth Simone Noveck
, Law Professor, and Director, Institute for Information Law and Policy, New York Law School launched the Peer to Patent: Community Patent Review project.
Incentives for submitting an application to the project include:
•
Expedited review.
Public review begins one month after publication of the application. Review continues for four months, after which the patent examiner conducts an expedited examination of the patent application.
•
Potentially stronger patents.
If Peer-to-Patent review works as expected, patents that survive the process have already undergone considerable scrutiny and will be less at risk of a successful challenge later.
•
Public service.
Applicants can feel they are contributing to a valuable experiment in new models and technologies for public decision-making.
"The Peer-to-Patent Web site is built using
open source technologies
(RoR, MySQL, Linux OS). Hosted database/web servers, load balancers, and interactive features (threaded discussions, e-mail alerts, RSS feeds, social bookmarks, video clips, tagging, ratings, and more)."
Sponsors: CA, Inc., General Electric, Hewlett Packard, IBM, Intellectual Ventures, John D. and Catherine T. MacArthur Foundation, Microsoft, Omidyar Network, and Red Hat. Peertopatent.org content is licensed under a Creative Commons Attribution-Noncommercial-ShareAlike 3.0 US License,
except where otherwise noted.