Chronicle of Higher Education
Larry Lessig, Harvard Berkman Klein
Jonathon Richter, Immersive Learning Research Network
Mark Johnson, UO Philosophy
Antonio Lopez, John Cabot Univ.
Victoria Vensa, UCLA Art|Sci
Berkman Center, Dana Boyd
Berkman Center Harvard Law
Bioneers Collective Heritage Institute
Cardozo Law, Susan Crawford
Harvard Free Culture Computer Society
Intl. Society for Systems Sciences
New England Complex Systems Institute
Institute for Ethics and Emerging Tech
Kairos: Rhetoric, Tech, Pedagogy
MIT CMS New Media Literacies
MIT Center for Civic Media
Pressthink, New York University
Open Source Lab, Oregon State Univ.
Regenerative & Permaculture Institutes
Stanford Encyclopedia of Philosophy
Uplift Academy, Tom Munnecke
---
Thursday, January 11, 2007 - 07:43 PM
---

The Portland International Initiative for Leadership in Ecology, Culture and Learning
(PIIECL) prepares future educators and leaders who are dedicated to creating a world that is
livable, ecologically sustainable, bio-culturally diverse and socially just.

WISE WEBSITE featuring Eco!

Free and Open Source Wikibooks :
• Ecology
• Climate Change
• Earth Science
• Open Culture
• Outdoor Survival
• Social Psychology
• Utopia
• Wikipedia in the Classroom
---
Monday, July 03, 2006 - 07:06 PM
---

Ubuntu is a desktop-oriented Linux-based operating system, freely available with both community and professional support (Debian GNU/Linux). Ubuntu use only free software to provide an up-to-date yet stable operating system for the average user, and available to you free of charge.
P.S.
Cory Doctorow
-- just switched from Mac to Ubuntu.
•
Well Known Techies Switching from Mac to Ubuntu
(kairosnews)
•
Switch to Ubuntu
(apress)
Ubuntu
is a free, open source operating system that starts with the breadth of Debian and adds regular releases (every six months), a clear focus on the user and usability (it should "Just Work", TM) and a commitment to security updates with 18 months of support for every release. Ubuntu ships with the latest Gnome release as well as a selection of server and desktop software that makes for a comfortable desktop experience off a single installation CD.
WIKI
The following list covers some of the software components included as part of version 6.06 of the Ubuntu Desktop. Much of it (such as GIMP, OpenOffice.org and Firefox) is considered standard software for the free desktop (see Examples of Free Software).
* GNOME desktop environment and accessories
* Gedit text editor
* GIMP image editor
* Firefox web browser
* Gaim instant messenger
* Evolution email and personal information manager (PIM)
* OpenOffice.org office suite
* Synaptic software package manager
* Totem movie player
* Rhythmbox music player

Most other free software can be obtained from the package repositories through Synaptic or the simplified Add/Remove Programs utility.
Edubuntu is a GNU/Linux distribution designed for use in classrooms, it's also Free in the sense of giving you rights of Software Freedom.
Edubuntu has been developed in collaboration with teachers and technologists in multiple nations worldwide. The primary goal of Edubuntu is for an educator with limited technical knowledge and skill to be able to set up a computer lab, or establish an on-line learning environment, in an hour or less, and then administer that environment without having to have much knowledge on the subject.
---
Saturday, April 08, 2006 - 01:33 AM
---

TESTING ... TESTING ... 1... 1.2... TESTING...

"LED Throwies II..."

The Graffiti Research Lab is dedicated to outfitting
graffiti writers, artist and protestors with
open source technologies for urban communication......
00101000101001010001010010001010100101010010
00101010100000010100101010010101000101001010
100101001010010100101001010100000100101010101
101010010100101001010010100010?20010101010101
00001000101001100010101001000100001010101010
110-All you see is...crime in the source code-10111110
1101001001000101010010001001010101011110100?2
10101010101010111101111111001010011100101000
101001010111010110101101010010010101010011011
01101010101211WHAT IS THIS010100010000010
101010100101010011010100101001010101010010100
010011001001010010011000101010`1010110101001
11110100000101111101000000111010000101
---
Friday, December 09, 2005 - 03:43 PM
---

Friday, January 20th 2006
at the EMU Ballroom, University of Oregon. Eugene, Oregon will once again play host to
an experience in sharing and collaboration
, celebrating the connections between
open source & organic solutions in art, science and community
. This year will acknowledge the
transdisciplinary space between analog and digital ecologies
. From the organic to the cybernetic, from the earth to the internet.... This experience is scheduled for 5pm.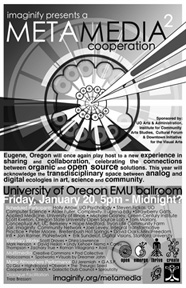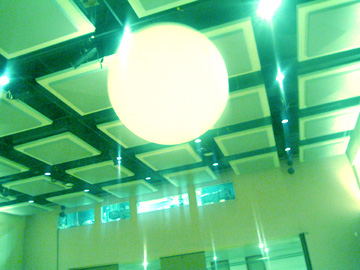 <----click here
PHOTOS AND MORE
Poster Designed by:
Rocketeye
---
Tuesday, September 13, 2005 - 09:04 PM
---

UPDATE: TRYON LIFE COMMUNITY FARM HAS BEEN SAVED!
Portland is a future that continues to nourish innovation and livability. Nestled into Tryon Creek State Park in S.W. Portland is
the intersection of rural, urban and wild. An Open Commons demonstrates how multiple communities can efficiently live, work, and play in urban density while learning to heal the land, cooperate with each other and change the world.
On this rare landscape, people are coming together to teach and learn the skills needed to ensure a sustainable future city.
Tryon Life Community Farm is seven acres, surrounded by 670 acres of state park. Rolling wooded meadows. Fruit trees, grape vines, vegetable gardens, a bonsai nursery...
---
Thursday, April 07, 2005 - 12:43 AM
---

Founded in 1999, Common Vision is a solution focused non profit organization. Common Visions mission is to cultivate awareness and respect for the Earth and to generate social and environmental changes towards sustainable lifestyles.



Common Vision and the Nomadic Institute
commonvision.org | Blog | Video


Our organization does this through four branches of focus,
education, restoration of degraded lands, direct action, and
documentation of those projects and other projects for positive change.
We integrate concepts of ecology with the traditions, music, and art of cultures
that live or have lived in harmony with the Earth.
---
Sunday, October 03, 2004 - 07:04 PM
---

Eugene, Oregon.
The regional gathering of visionaries, creative solutions and inspiring stories.
Please join in this October for a celebration of personal and planetary healing. The mission is to continue the development of a spirited community and highlight and support bioregional diversity and health. Eecognizing the contributions of women and youth within our communities. The conference features a live satellite downlink from the main conference.
UPDATED
!
---
Tuesday, September 14, 2004 - 03:00 PM
---

A wiki is a website or collaborative software that allows any user to add content, as on an Internet forum, but also allows that content to be edited by others. Wikipedia was created as
an information source in an encyclopedia format that is freely available
. The license we use grants free access to our content in the same sense as free software is licensed freely. This principle is known as copyleft.
UPDATED
!
---
Saturday, September 04, 2004 - 03:59 PM
---

From
Groklaw
,
an open research database of the case for free & open source's legal legitamacy
, and made up of programmers, lawyers, paralegals, and the general public. Combined effort makes it possible to find esoteric technical information and evidence that otherwise might be missed by those with a less technical background. such as;
HOW TO
Switch from Windows to Linux
.
---
Saturday, May 08, 2004 - 02:38 AM
---

Project Gutenberg
is the Internet's oldest producer of
free electronic books (eBooks or etexts).
Most of the Project Gutenberg eBooks are older literary works that are in the public domain in the United States. All may be freely downloaded and read, and redistributed for non-commercial use. The
Radio Gutenberg Subproject
makes audio eBooks available for some of the same great literature available in plain text.