Chronicle of Higher Education
Larry Lessig, Harvard Berkman Klein
Jonathon Richter, Immersive Learning Research Network
Mark Johnson, UO Philosophy
Antonio Lopez, John Cabot Univ.
Victoria Vensa, UCLA Art|Sci
Berkman Center, Dana Boyd
Berkman Center Harvard Law
Bioneers Collective Heritage Institute
Cardozo Law, Susan Crawford
Harvard Free Culture Computer Society
Intl. Society for Systems Sciences
New England Complex Systems Institute
Institute for Ethics and Emerging Tech
Kairos: Rhetoric, Tech, Pedagogy
MIT CMS New Media Literacies
MIT Center for Civic Media
Pressthink, New York University
Open Source Lab, Oregon State Univ.
Regenerative & Permaculture Institutes
Stanford Encyclopedia of Philosophy
Uplift Academy, Tom Munnecke
---
Monday, June 24, 2019 - 01:27 PM
---

SELECTION OF COURSES & ORGANIZATIONS
COMPLEXITY, SYSTEMS SCIENCE, AND COMPLEX SYSTEMS

• Santa Fe Institute (SFI) | Complexity Explorer (courses)
• New England Complex Systems Institute | NECSI courses
• SystemsInnovation.io (courses) | videos (playlists)
• Portland State Univ. (PDX) Systems Science Program
• Capra Course | Trailer



"Single-layer feedforward artificial neural network" Akritasa, cc 2015



"Artificial neural network with layer coloring" glosser, cc 2013

Also see Imaginify Emerging Systems


---
Saturday, January 01, 2011 - 12:00 AM
---

Timescapes (2011)

Behind the Scenes of "TimeScapes"
"A shot of me [Tom Lowe] working on a timelapse shot last night."
Photo by Chris Mierzwinski (http://www.visceralfilms.ca)
URL: http://www.flickr.com/photos/digitallion/4680293368/
© Tom Lowe @ Timescapes.org [click photo above]
---
Saturday, December 13, 2008 - 11:20 AM
---

An interesting post-typographical innovation...

Free EcoFont uses up to 20% less ink.
Results vary font size 9 or 10 is best depending on
your software and the quality of your screen...
Best for OpenOffice on Mac, PC, or Linux.
Distributed under GPL and based upon Bitstream Vera...



VeraSansSpecimen.svg by Sun Ladder
CC-BY-SA 3.0 & GDFL

Also check out some new forges on the top right column... : )
BioForge, Digital Commons, Media Commons, Moving Images, Open GoogleCode, RubyForge,
ScienceCommons, ScientificCommons, Software Archive, SourceForge, WikiSpecies
---
Wednesday, November 05, 2008 - 07:54 PM
---
---
Thursday, October 23, 2008 - 10:20 AM
---

[download browser]
---
manage • track • update
social networks • friends • photos • sharing
blog editor • webmail • favorites • search
detect • drag-n-drop • subscribe • media • feeds • reader • more

---
As of 2010, Flock is based on Chromium,
utilizing the WebKit rendering engine.
easier • faster • safer • free • open source
---
Monday, March 31, 2008 - 06:20 PM
---

MIT Press Journals has recently published (
under Creative Commons Attribution-Noncommercial-No Derivative Works Unported 3.0 license
) a series on Digital Media & Learning, definitely worth examining
"...the effect of digital media tools on how people learn, network, communicate, and play, and how growing up with these tools may affect peoples sense of self, how they express themselves, and their ability to learn, exercise judgment, and think systematically..."
See: "Read open access"
— complete creative commons'd and free editions . . .
Digital Youth, Innovation, & the Unexpected
(cc) Edited by
Tara McPherson
, Associate Professor, School of Cinematic Arts, University of Southern California.
How emergent practices and developments in young people's digital media can result in technological innovation or lead to unintended learning experiences and unanticipated social encounters.
Youth, Identity, & Digital Media
(cc) Edited by
David Buckingham
, Professor, Institute of Education, London University.
Contributors discuss how growing up in a world saturated with digital media affects the development of young people's individual and social identities.
---
Monday, December 31, 2007 - 12:00 AM
---

" R E - R E M I X "
Imaginify 'synchron'icity
This happened by coincidence !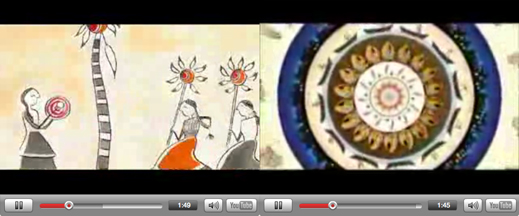 (0º) CLICK ABOVE IMAGINAL IMAGE





" R E - R E - A R C H I V E "
Imaginify 'synchron'ization
This simply happened !


"Cowley-Vädersolstavlan-HaloSim-stockholm38"
A HaloSim ray tracing calculation of the sky over Stockholm on April 21, 1535
Produced by Les Cowley, 25 February 2008, GNU Free Documentation license



"Vädersolstavlan" ("The Sun Dog Painting") by Urban målare, 1535
Copy by Jacob Heinrich Elbfas at Storkyrkan in Stockholm, Sweden, 1636
1998-1999 restoration, Public Domain


---
Wednesday, August 22, 2007 - 10:46 PM
---

"Net Art" also known as "Software Art"


Image: "Jackson_Pollock_by_Miltos_Manetas" by Amalyah Keshet, 2006
Software Remix: "JacksonPollock.org" by Miltos Manetas, 2003
Software: "Splatter" by Michal Migurski & re-elaborated by Iashido, 2003
CC Atttribution Non-Commerical Share-Alike 2.5 License



"Jackson Pollock painting "One: Number 31, 1950" at the Museum of Modern Art", 2007
Image: "Pollock31.jpg" by Americasroof (wikipedia)
CC Attribution Share-Alike License version 2.5
---
Wednesday, May 23, 2007 - 01:29 AM
---


"VISION OF AN OPEN LIBRARY" | "LIBRARIES GOING OPEN (2007)"

By Brewster Kahle
• Table of Contents
• Guided Tour
---
Sunday, January 21, 2007 - 01:52 PM
---

Come support this event and Help...
Heal The Ocean!
The ocean can no longer be used as a dump!
Course of Action:
instead of lobbying the government for action on ocean-pollution issues, we study the problem ourselves and recommend practical solutions. We undertake scientific studies to identify sources of pollution
- from leaking sewer pipes, offshore sewage disposal, leaking coastal landfills or septic systems.
They test for viruses in the ocean, creeks and groundwater to determine if human sources of pollution are present, and what are the likely sources. In cooperation with Santa Barbara County, Heal the Ocean pioneered both the use of environmental DNA testing and virus testing in the local area.