Chronicle of Higher Education
Larry Lessig, Harvard Berkman Klein
Jonathon Richter, Immersive Learning Research Network
Mark Johnson, UO Philosophy
Antonio Lopez, John Cabot Univ.
Victoria Vensa, UCLA Art|Sci
Berkman Center, Dana Boyd
Berkman Center Harvard Law
Bioneers Collective Heritage Institute
Cardozo Law, Susan Crawford
Harvard Free Culture Computer Society
Intl. Society for Systems Sciences
New England Complex Systems Institute
Institute for Ethics and Emerging Tech
Kairos: Rhetoric, Tech, Pedagogy
MIT CMS New Media Literacies
MIT Center for Civic Media
Pressthink, New York University
Open Source Lab, Oregon State Univ.
Regenerative & Permaculture Institutes
Stanford Encyclopedia of Philosophy
Uplift Academy, Tom Munnecke
Saturday, January 20, 2007 - 10:33 PM
---

METAMEDIA COOPERATION 3 :: 03/03/07
Eugene, Oregon - The Jordan Schnitzer Museum of Art plays host to an experience in sharing and collaboration, celebrating the connections between creative concepts and practices in art, science and community. This experience is scheduled for 1:00~8:00 p.m., Saturday, March 3rd.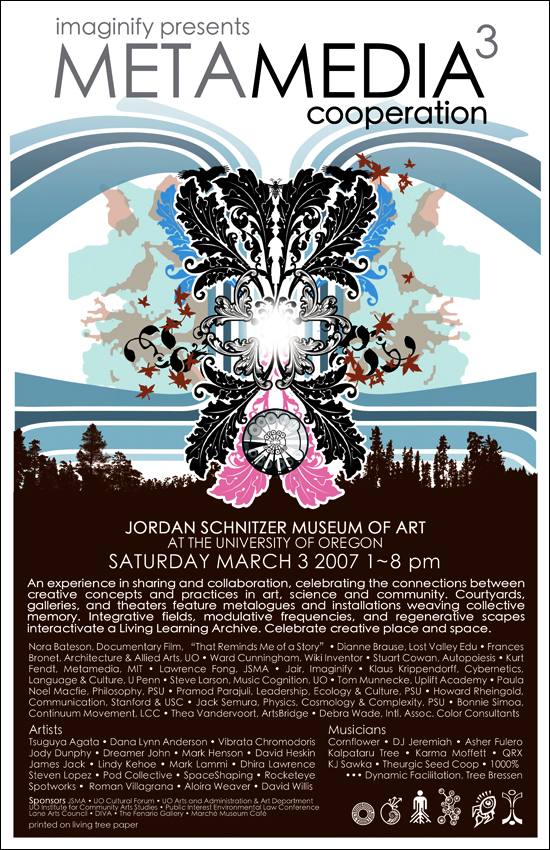 OPEN • EMERGE • THRIVE • CREATE
CONFIRMED PARTICIPANTS
Nora Bateson, Documentary Filmmaker, "Gregory Bateson: That Reminds Me of a Story"
Frances Bronet, Dean, Architecture and Allied Arts, University of Oregon
Dianne Brause, Co-Founder, Lost Valley Educational Center, Dexter, OR
Stuart Cowan, Affliliated Faculty, Portland International Initiative for Leadership, Ecology, Culture and Learning, & General Partner, Sustainable Urbanism, Autopoiesis LLC
Ward Cunningham, Inventor, Wiki Collaborative Software, and Director Community Development, Eclipse Foundation
Kurt Fendt, Research Director, Comparative Media Studies and Co-Principal Investigator/Manager, Metamedia Project, Massachusetts Institute of Technology (MIT)
James Jack, Painter/Calligrapher, Artist-in-Residence, Sitka Center for Art and Ecology & Portland Art Center
Jair, Creative Director, Imaginify Community Network
Klaus Krippendorff, Gregory Bateson Professor, Annenberg School for Communication, & Author, The Sematic Turn, University of Pennsylvania
Steve Larson, Professor, School of Music and Dance, and Member, Institute of Cognitive and Decision Sciences, Music Cognition, University of Oregon
Paula Noel, Adjunct Professor, Department of Philosophy, Portland State University
Thomas McFarlane, Founder, Center for Integral Science, and Alumni, Philosophy, Cosmology, and Consciousness, California Institute of Integral Studies
Tom Munnecke, Founder, Uplift Academy, * and Alumni, Digital Visions Program, Stanford University
Pramod Parajuli, Co-Founder, Portland International Initiative for Leadership, Ecology, Culture and Learning, Graduate School of Education, Portland State University
Howard Rheingold, Adjunct Faculty, Communications, Metamedia, Stanford University, Fellow, Annenberg Center for Communication, USC, Participatory Media/Collective Action, UC Berkeley
Jack Semura, Professor, Department of Physics, Cosmology & Complexity, Portland State University
Bonnie Simoa, Lead Dance Professor, Continuum Movement, Dance Department, Lane Community College
Thea Vandervoort, Coordinator, ArtsBridge, JSMA at the University of Oregon
Debra Wade, Accredited Member, International Association of Color Designers

FACILITATED DYNAMICALLY
Tree Bressen, TreeGroup.info
Kaliya Hamlin, Unconference.net

ART INSTALLATIONS
Dana Lynn Anderson, Lecturer & Painter, California Institute of Integral Studies, & Institute of Imaginal Studies
Vibrata Chromodoris, Analog Painter & Digital Designer, Alumni, Lakehead University
Jody Dunphy, Analog & Digital Multimedia, Alumni, Milwaukee Institute of Art & Design
Mara Berendt Friedman, Analog Painter, "Mythic Journeys Art Exhibition" (honoring Joseph Campbell)
Jodi Hanson & Kelsey Strauch, Collaborative Analog Painters, Alumni, University of Oregon
Mark Henson, Painter and Lecturer, American Visionary Art Museum & Alumni, University of California at Davis
David Heskin & Aloria Weaver, Analog Live Painters, 5th International Symposium on Digital Earth at UC Berkeley
James Jack, Painter/Calligrapher, Artist-in-Residence, Sitka Center for Art and Ecology & Portland Art Center
Dreamer John, VJ & Digital Projection Installation, VideoRiot, Transcinema Festival, San Francisco
Alan M. Kapuler, Analog Painter, Molecular Biologist & Public Domain Plant Breeder, retired Research Director of Seeds of Change
Lindy Kehoe, Analog Painter & Experiential Art Educator, River School, Napa, California
Mark Lammi, Glassworks, Adjunct Faculty, Chemeketa & Artist Ambassador, National Liberty Museum, Philadelphia
Dhira Lawrence, Analog Painter, Alumni, University of Hawaii
Lightbox, Pod Collective, Multimedia Interface & Design Navigator featuring Analog & Digital Works
Steven Lopez, Analog and Digital Graffiti, Alumni, University of Oregon & Lane Arts Council
Charles Lowrie, Glassworks, Assistant to Pino Signoretto
Rocketeye, Digital Designer, Alumni, Utah State University
Spotworks & Electric Sheep: Dreams in Hi Fidelity, HD Digital Media, Alumni, Carnegie Mellon University
Space Shaping, Analog Sculptures, Hult Center for the Performing Arts, & Eugene Magazine, 2007
Roman Villigrana, Analog Painter, Project Restoration, Conscious Alliance
David Willis, Analog Glassworks, Alumni, University of California at Berkeley

MUSICIANS & ATMOSPHERES
Cornflower [ashland]
DJ Jeremiah [eug]
Elana [sf]
Asher Fulero of Surrounded by Ninjas and Everyone Orchestra [pdx]
Kalpataru Tree [ashland]
Karma Moffett [sf]
QRX of C-120 [eug]
KJ Sawka [pdx]
Theugic Seed Cooperative [eug]
1000% [pdx]

This year's doorway to cooperative landscapes and thoughtscapes acknowledges connections in Deep Time. These metalogues and installations explore common visions: from enviro-conservation to free customizable software, to patterns, rhythms and rhymes.

With the capacity for learning, unlearning and relearning from the open internet, and the wisdom of organic systems, we can further efforts to "take care of" and heal our relations and our home, the Earth.

Emerging from the previous two themes of "free culture," and "the analog and the digital," Metamedia Cooperation 3 will encourage integrative fields and regenerative practices, modulating a Living Learning Archive.

This journey features dialogues with cutting-edge academics from the fields of communication, dance, ecology, music, physics and positive psychology. Experiential learning communities at the forefront of ecovillages, LEED-certified architecture restoration, and social creativity round out a new synergy with the Public Interest Environmental Law Conference. Courtyards, galleries, and theaters will be co-curated featuring visionary works by Vibrata Chromodoris, Jody Dunphy, James Jack (Portland Art Center/Sitka Center), Dhira Lawrence, Mark Henson, Mark Lammi, Steven Lopez, Rocketeye, Deborah Wade, David Willis and others. Atmospheric sounds will be performed, mixed and remixed by Cornflower, Asher Fulero, Elana, Kalpataru Tree, Karma Moffett, QRX, KJ Sawka, along with visuals by Dreamer John, Pod Collective, and Spotworks. Multidimensional Artist and Composer, Jair, serves as a guide through this participatory and teleconferenced meeting of hearts and minds.

Come celebrate creative place and open space.

---
Full Circle at the Museum of Art :: Welcome | Log-in or register a new user account | 0 Comments
Comments are statements made by the person that posted them.
They do not necessarily represent the opinions of the site editor.